Ronalds Kucers - 01 / Mar / 2020
Alleycat. Part I. Road to the Alleycats.
If you have been around the urban cycling scene for any length of time, you will, in all likelihood, have heard of something called an "alleycat". If you have taken a deeper interest in the activity of urban cycling, something more than just commuting. If you have been seeking out information online; joining or following relevant groups or pages on social media, seeking out relevant channels on You Tube, it is almost inevitable that you will have heard, or seen, at least a passing mention. Maybe you have begun to notice, or be noticed by the core of full time, long term urban riders that exist in every city and have overheard something in conversation. Maybe you even saw a movie.....
Whatever- let's just assume you've heard of them, and even if you hadn't- you certainly have now because you're reading this. Actually ,it's quite hard for me to imagine where or how someone new to the scene might first hear of alleycats. It's a long time since I was new to the scene, when I was new to the scene, there was no scene.
We were the scene, we just didn't know it yet. We were the working bike messengers, or "pushie couriers" as we were called in Melbourne. It was the previous century and the internet was still years away. There was a messenger community, but it was confined to whatever city you lived and worked in- your personal colleagues and associates, the people you worked and got f•••ed up with. We were aware that there were messengers in most every modern city around the World- but there was next to no communication. Occasionally someone would show up in town from somewhere else, and we'd eagerly absorb news from other cities and countries from this person who was just like us, but from somewhere else. It is hard for young people now to imagine a World without the internet, or even mobile phones, for that matter.Without it we were just a group of people doing a difficult, sometimes unpleasant, sometimes euphoric, job- just some poor bastards riding around in the rain ,getting treated like shit ,for f••k all. Just a distorted 2-way radio for communication- trying to write out job details on paper in the rain.
We started to hear rumours from people who'd been overseas about some kind of "Alley...." events that had been put on somewhere, at some time, but just rumours about rumours. Nothing from anyone who'd actually participated or knew what the format actually was. I seem to recall an event someone put on where we took over a grotty alley and had drag races up it. Lots a fun and games, but not yet anything like an alleycat as we know them now.
Around the same time, which must have been after 1993, and more than likely from the same visitor, we heard news that a Cycle Messenger World Championship had been held in Berlin. Cycle Messenger World Championship?! Fancy that! You'd almost think we were some kind of legitimate athletes or something like that.....something we'd never thought of ourselves as being. We were workers doing a job. A job where we got paid to ride bicycles, but a job nonetheless. At this stage the news kind of went in one ear, and out the other. Certainly nobody I knew was entertaining the possibility of ever attending such an event. We were so far from anywhere in Melbourne, and air travel was expensive and even more of an ordeal than it is now. No seat back entertainment, you see.
Time went by. The following year we heard, but too late, that the Worlds had been held again in London, then again the following year we heard about Toronto. It was clear by this stage that the Cycle Messenger World Championship was going to continue as an annual event and it was most certainly firmly on the "to do" list. I was keen to go to San Francisco in 1996, but I still had a keen interest in mountain biking at the time and the Mountain Bike World Championships were being held in Cairns, way up North in the Australian tropics at almost the same time. That sounded like something to build a good holiday road trip around, so we did that instead.
In 1997, something unusual, and unexpected happened. Since 1993, I'd been working for Minuteman Messengers, an independently owned company that had been started by two young guys in 1992 in a flurry of unprecedented savvy marketing and publicity, very quickly seizing a very large market share indeed. Until them, the closest any company had come to a uniform was maybe a grotty green t-shirt. They, right from the start, had their riders in matching cycling jerseys and shorts, in fact a full kit of professional cycling clothing. When they first appeared, they were nobodies, but they looked like somebodies. They looked like a professional cycling team. I clearly remember thinking, right from the start, that everybody else better lift their game or they were going to lose to these guys.
So we learned of the 1997 Championship, to be held in Barcelona from Dave Roper, the owner of Minuteman, our employer. In his usual savvy way he had spotted the marketing opportunity that Minuteman sending a team to a World Championship, no matter how unofficial, would provide. People tend to be impressed by those two words- they carry a lot of weight with the public. There was going to be a team of three riders, with a selection process involving performance based criteria and an "alley race" event for the final decision. There's that "alley" word again -but still not an alleycat. There was tangle of alleyways around our base, so we made a tight course around them, with cobbles, tight corners and had time trials around it. Dave took full advantage of the publicity opportunities the selection process afforded- we were all over the local press- there may have even been a TV spot or two.
I finished third in the time trial event, but had been off work while the performance assessment was going on due to needing surgery to remove a clotted varicose vein in my left leg. So I hadn't accumulated many points there. I finished fourth overall, so was bummed but willing to accept that, once again, I wasn't going to go. I was also flat broke due to all the time off I'd just, unavoidably had, so there was no hope of going at my own expense. But then one of the guys couldn't go, or didn't really want to. I was next in line, I had a passport, but I was flat broke. Third place only got a third of the trip paid for, so this appeared to be a problem. Second place didn't have the money either. Dave made that problem go away by offering to pay for it all up-front- we could work the debt off upon our return. So finally it was on! Flights were quickly booked, bike got overhauled, I scraped some spending money together from somewhere and a few, short weeks later Team Minuteman was off to CMWC 1997 in far away Barcelona.
We really didn't know what to expect. Either from Barcelona or the championship. All I knew about Barcelona was that there were these buildings by a crazy genius architect that looked like something from an acid trip. We didn't know whether the championship was going to be an ultra serious sporting event, with the various nationalities keeping mostly to themselves, or one big party. The truth, of course, was somewhere between the two. There were those who were ultra serious, notably some Germans, who were all fired up from Jan Ullrich having just won the Tour De France. They had matching Telekom riding clothes and were even riding Pinarello road bikes. But most people were primarily there to party and make friends. This was our first encounter with what would later become known as the Messfam- the international messenger family. Within it ,imagined language barriers do not exist , the common love of bikes and depth of shared experience common to all long term messengers overrides all that.
The full story of Team Minuteman at Barcelona I will tell later, I'm going to try and just skip over it here, but there were three very important things I personally took away from my experience.
First, and perhaps most important, was and is the realisation that we weren't just dickheads riding around in the rain, we were members of an International family, a subculture of great strength and depth. This sense of pride in what we are, this self realisation stays with me to this day. I remain very proud of what I once was.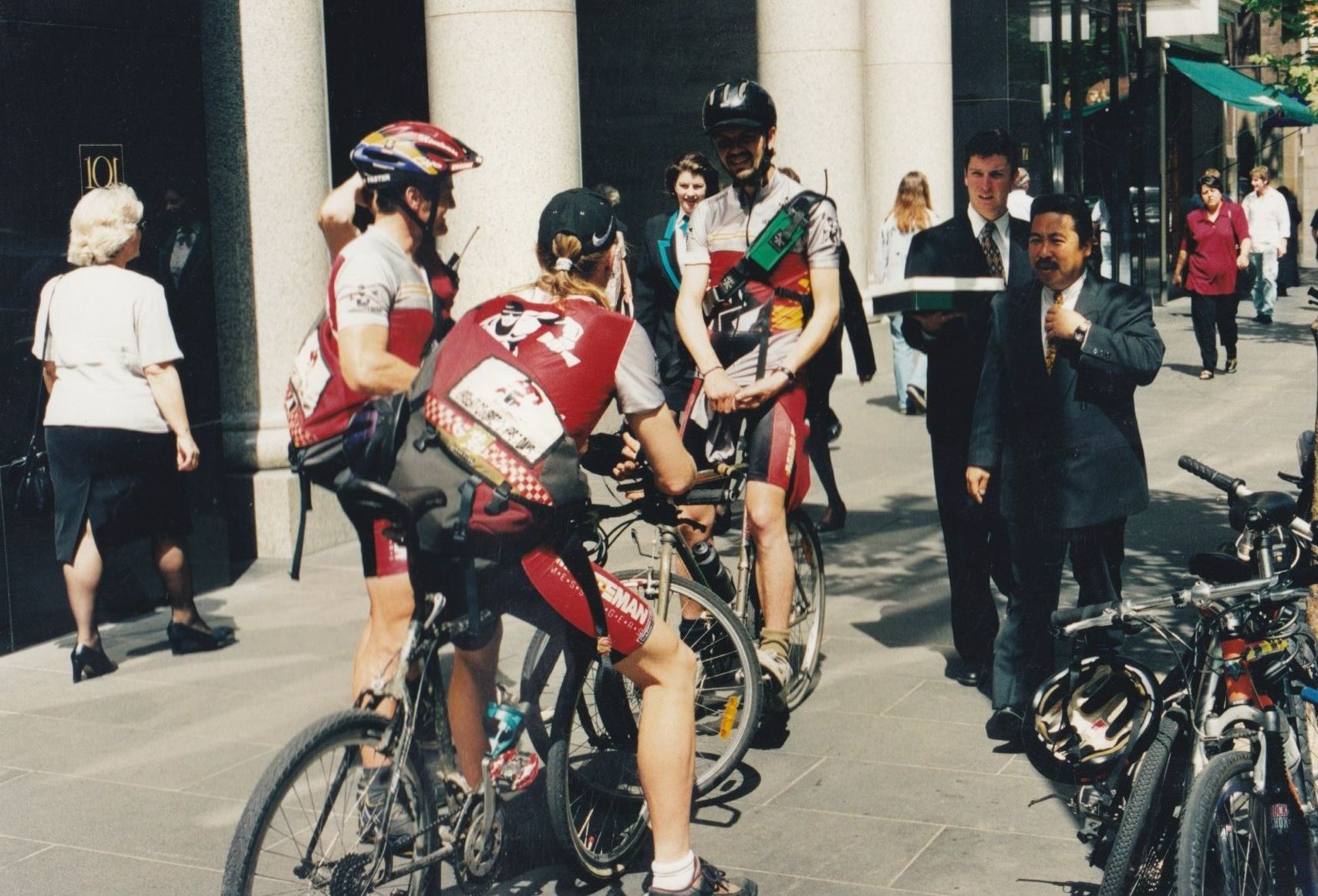 Team Minuteman from Melbourne
Second thing was that I'd seen the messenger track bike riders from cities such as Washington DC ,Philly, New York and London in action and that looked like the most fun ever to me. Besides- the bikes were so damn elegant! From then, working on a brakeless fixed gear was firmly on the to do list. Barcelona was where the first, impromptu track stand ,skid and backwards circle competitions were held at a Championship. Completely unplanned- kind of a "Why dont we........" thing on the last afternoon when all the official events were run and done. To me it was the most impressive thing I saw there.
Third was that we finally knew what an Alleycat actually was in reality. The Alleycat was not an official part of the CMWC program, it was just something some Canadians from Toronto had been organising unofficially, by word of mouth at Championships since they'd hosted in 1995. Johnny Jet Fuel from the Jet Fuel Coffee Shop and some of his friends had come up with the concept in the mid to late 80's. Essentially orienteering in the inner urban jungle, usually a series of checkpoints spread around the inner city, sometimes identified by address, sometimes by clues. Mass start at one point , finish line at an end point. Checkpoints in between that have to be visited, usually in no particular order, but not always. In any case, there's a mass start, but everyone takes off in all different directions- how the rider then goes about completing the challenge is entirely up to them.
In Barcelona, the loop had been thrown by one of the checkpoint clues that, either accidentally, or by design could be interpreted two ways. One easy in the centre of town , the alternative seemed to be at the top of Montjuic- the mountain on the edge of the centre of town. The one with the roller coaster. It's BLOODY steep! So riders had to gamble on whether they thought the organisers were making it easy or hard......the cruel twist is that those who took the hard option were not rewarded for their effort. The actual checkpoint was the easy one. Some poor riders had spent ages searching fruitlessly for a checkpoint around a closed fun park at the top of a dirty great hill, losing more time to not wanting to admit they'd made the wrong decision. Some only finished hours later, some never finished -having been distracted by Barcelona's many fine watering holes. As you do.
I'd actually missed the start , I cannot lay claim to having participated in the 1997 Barcelona CMWC alleycat. It had been as informal as Colin from Jet Fuel getting up on a table at a location where many were partying and announcing an Alleycat- when? Now! I was off somewhere else at that moment, so missed the start but I was there for the finish so got the full story of what had gone on. It's not really important who finished first now- but it was one of the kids from Velocity in Copenhagen. I remember because he had "Velocity" tattooed across his upper back in big, gothic letters. Imagine getting "Minuteman" across your back; not a label I'd want to have on myself- people might get the wrong idea..........!
Colin from Jet Fuel had been the first messenger that I'd met shortly after arriving in Barcelona the previous Monday. Me and Tim , the colleague who'd got second in the trials, had assembled our bikes and gone for a roll around the Barri Gothic, during which we got one of the essentials of a messengers life sorted ridiculously easily and were hanging around , leaning on our bikes outside the Boqueria Market on La Ramblas enjoying the second essential of messenger life- a damn good cup of coffee. Skinny, dreadlocked Colin rolled up on a FULLY loaded touring lugger and the first thing- in broad Canadian is: "So- How the f••k do you order a good cup of coffee in this town?" He was very impressed with the quality of the coffee I was able to direct him to, and was also impressed that in the meanwhile we had that first essential prepared and ready to go ,then was even more impressed when it turned out that we'd been in town for less time than him and had already got things figured out.
Our paths crossed several more times during the week, always the same two essentials....I also partied with , and got to know Alex the San Francanadian ,Jet Fuel's other representative at these Worlds. More enjoyment of the essentials of life. By the end of the week I had so many names and addresses written down – contacts all over the World. On the Sunday night, competition done and dusted, we learned about another thing that was becoming a CMWC tradition- the post race jersey swap. We Minutemen were in the thick of this, as we had an item of company uniform that EVERYONE wanted. Remember the Minuteman uniform I mentioned? It hadn't been a jersey and shorts anymore for the previous year . A couple of the boys had bared their bums at a busload of Catholic schoolgirls in the middle of Collins st and the school principal had rung Minuteman in a frothing fury. The response from management ensured that it would NEVER happen again- a few short weeks later , we all had to hand in the shorts and jerseys and were issued with....skinsuits!!!! Bare your bums in that, mother••••ers!!!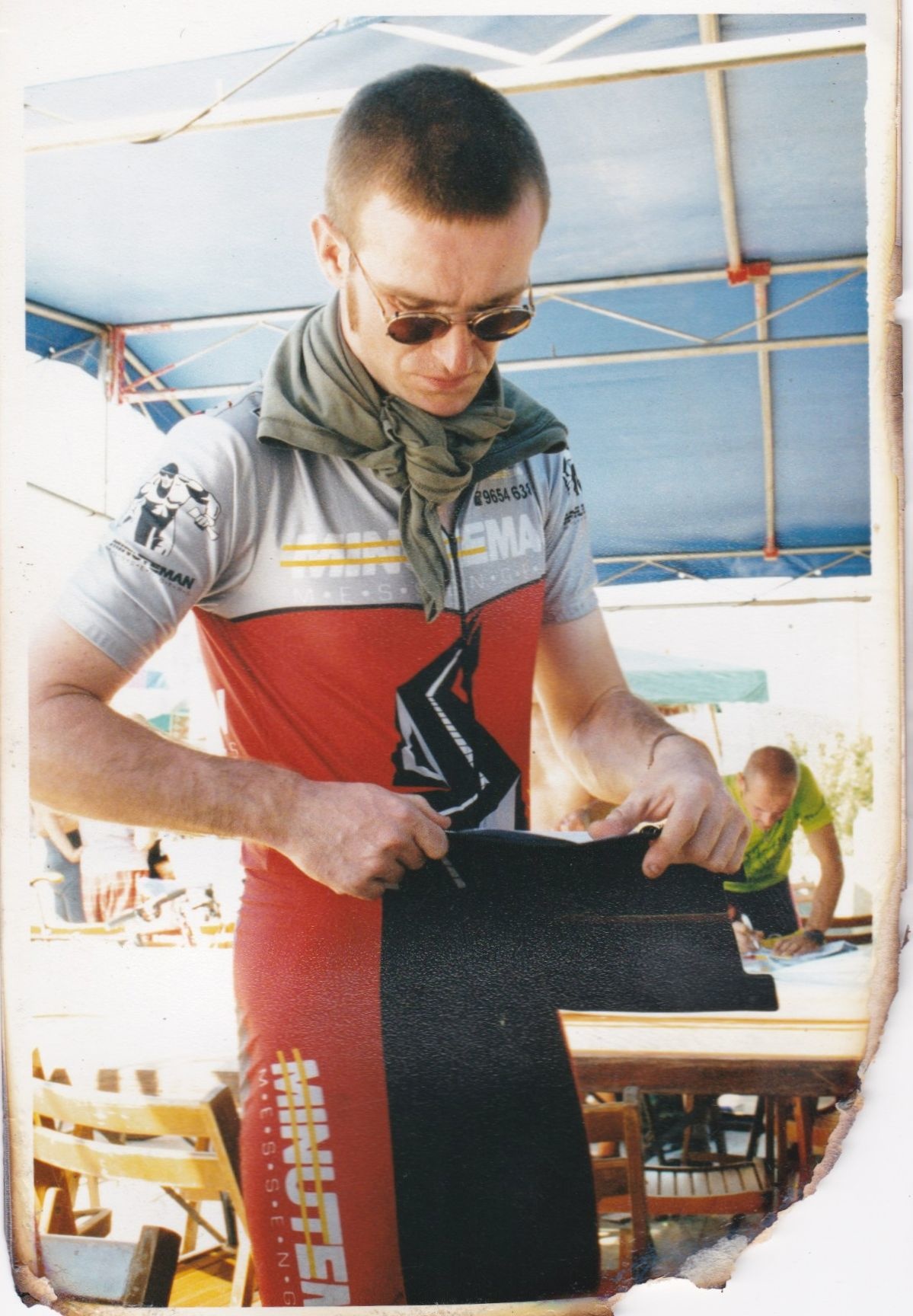 Me in skinsuit.
In Barcelona we'd only worn them for the race, but they caused quite the sensation! " You have to wear THAT?!!!" So when it came to the jersey swap- everybody wanted one. But we'd been firmly told that they were company property and not ours to swap. Dave the boss was in Barcelona with us, and at this party, so dutifully I said no to a few cool jerseys. But then Colin entered the picture- I think that he was looking for the Velocity kid who won the alleycat, but he stopped when he saw me- I could see he wanted the skinsuit, and for the Jet Fuel jersey I didn't care what Dave thought. I quickly convinced Colin that he REALLY wanted the skinsuit- it was even a new one- only worn for one race and the swap was done - with Dave looking on making gestures of disapproval. So that's how I, who didn't even race the alleycat, ended up with what was, at the time, the most coveted jersey in the messenger and alleycat world . It was only given to one person each year. I had this explained to me more than once that night by envious people who had wanted it above all.
End of part I
Read Part II here.
Vetra 01 / Mar / 2020

@ 09:27

Thank you for good words! We try to do our best for our TRIBE!

Wal 01 / Mar / 2020

@ 04:47

Nice blog. Brought back fond memories of my time in Melbourne and Toronto and an epic alleycat starting and finishing at Jetfuel!
Follow our urban journeys