Ronalds Kucers - 01 / Mar / 2020
Alleycat. Part II. Alleycats spread the world.
This is second part of my article about Alleycats. If you missed Part I, here it is. 
So the Cycle Messenger World Championship event was over and all the boys and girls returned to their home cities, bringing word of what they had seen and heard to their home communities. I had a two day stopover in London on the way home, and unfortunately lost my clipboard with all the contact details I had gathered. That was a bit of a bummer. But this is the way the word about alleycats and, for that matter, the whole riding track bikes on the street thing was spread around the globe from the original centers in the World before the internet. I never organised an alleycat myself , but I clearly remember explaining the concept to Petri, who went on to organise the first series of alleycats in Australia in grand style some months later , as well as the first Australian Messenger Championship in 1999.
Inside six months I'd destroyed my work bike and had grabbed this track bike that was around the house to ride. Never looked back. At the time that was a very lonely pursuit- the first beginnings of the fixie craze were still a decade away.
Petri's alleycats were always really well done- plenty of variety . Sometimes the challenge was in the distance, sometimes in the obscurity of the laneway addresses you had to find , sometimes in the sheer volume of expected pedestrian and traffic chaos you could expect to find . The other kink Petri threw in was a scavenger hunt element- you had to bring certain objects to the finish. Usually things that were only found in one place in the whole city that only an observant local would know where. Or that were embarrassing or tricky to get- I don't remember specifics, but use your imagination.
Somewhere in there, Alex the Sanfrancanadian turned up on my doorstep, looking for a place to stay. He'd done well finding my address – I'd moved twice since Barcelona. He stayed in our spare room for six months.Wasn't a bad houseguest, as I recall. I'm not sure whether the Melbourne Alleycats had started yet at that stage- I have to remember that this was all around twenty years ago. The timeline is a bit blurry now.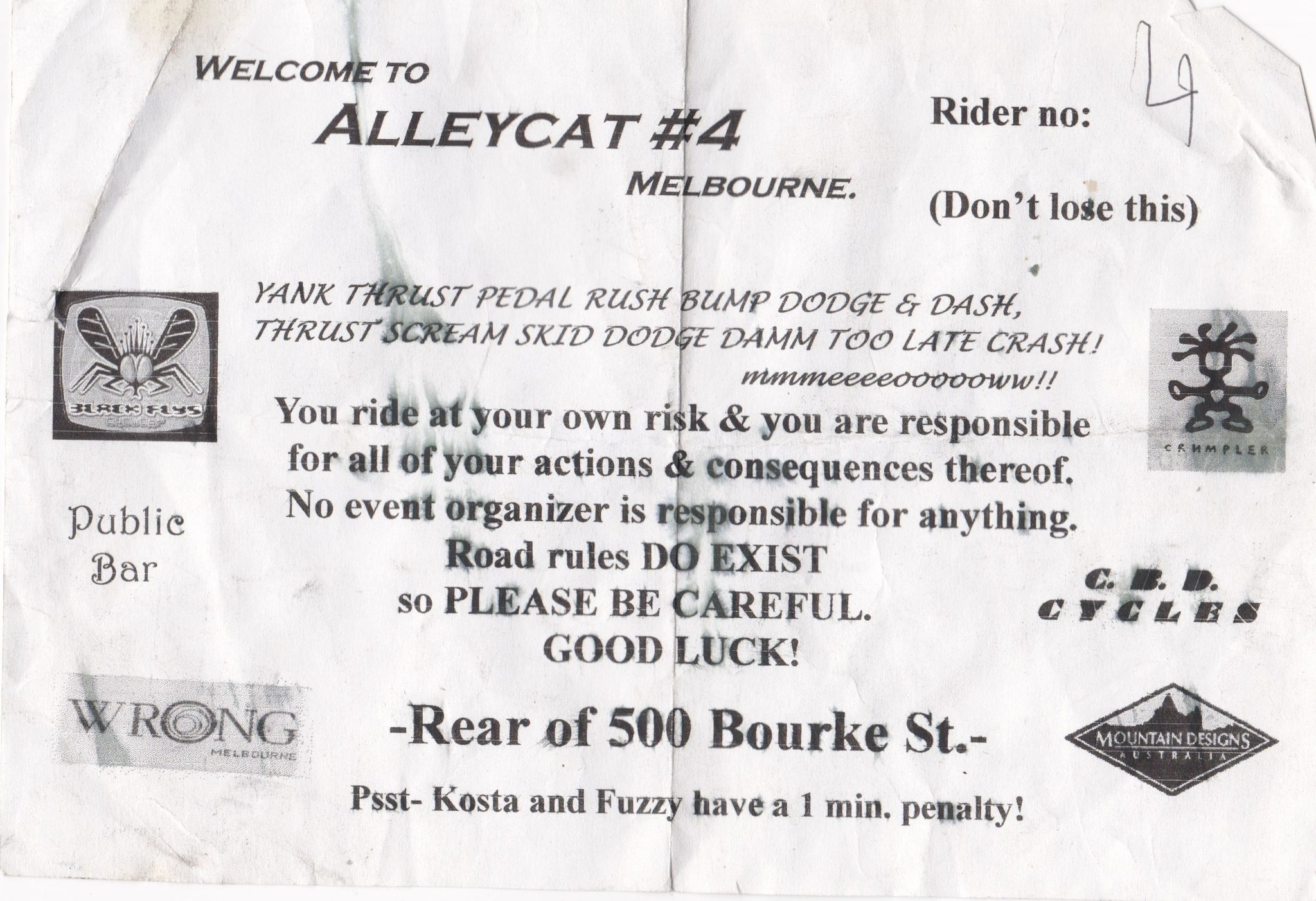 I got second place on my fix in Alleycat 4- so I have the honour of getting the first fixed gear placing in an alleycat in Australia. The afterparties were always epic – we enjoyed the support of The Public Bar in North Melbourne- a relationship that would last the better part of a decade, even after Petri had to pass the organising duties on to other hands .These early alleycats were notable for the very yummy ,though highly suspect slice of chocolate cake everyone had to eat at the finish. The parties ,therefore -got quite lateral. Over the years, Melbourne developed its own unique annual events - "Melbourne Cup Madness" and the "Grand Final Gauntlet" held to co-incide with Melbourne's two iconic sporting events. Always a very high mayhem factor, due to the amount of people in town for these public events.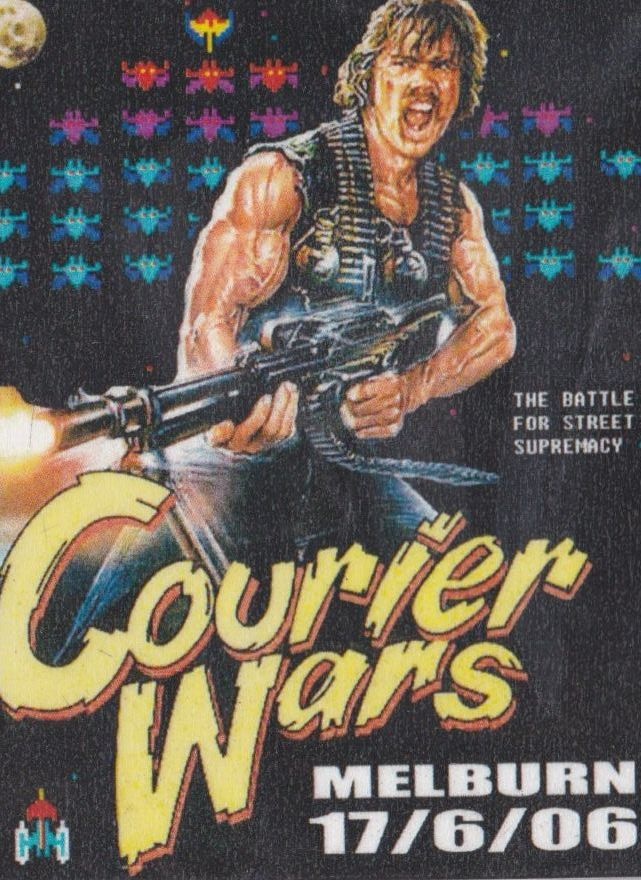 Of course, there were similar things happening all over the World. The word about alleycats and fixed gear street riding was spread around the World by the riders who attended those early Messenger Championships. I can't lay claim to having been in right at the very start of these things, that was much earlier- but I was certainly of the first generation that spread them around the World. Over the years I know I influenced many people to start riding track bikes on the street,simply by riding mine, including Dimmos, the Golden Greek- who would be a major player in the beginnings of the fixed gear/fixie explosion in the mid noughties. He organised alleycats as well as the group meetups every week that led to the growth of fixed gear freestyle in Melbourne. He didn't organise the first track bikes only, no brakes allowed alleycat in Melburn though- that was Mean Streets, organised by Slick Rick, AKA Sync. Maybe a year earlier- the very beginnings of what would develop into the fixie craze.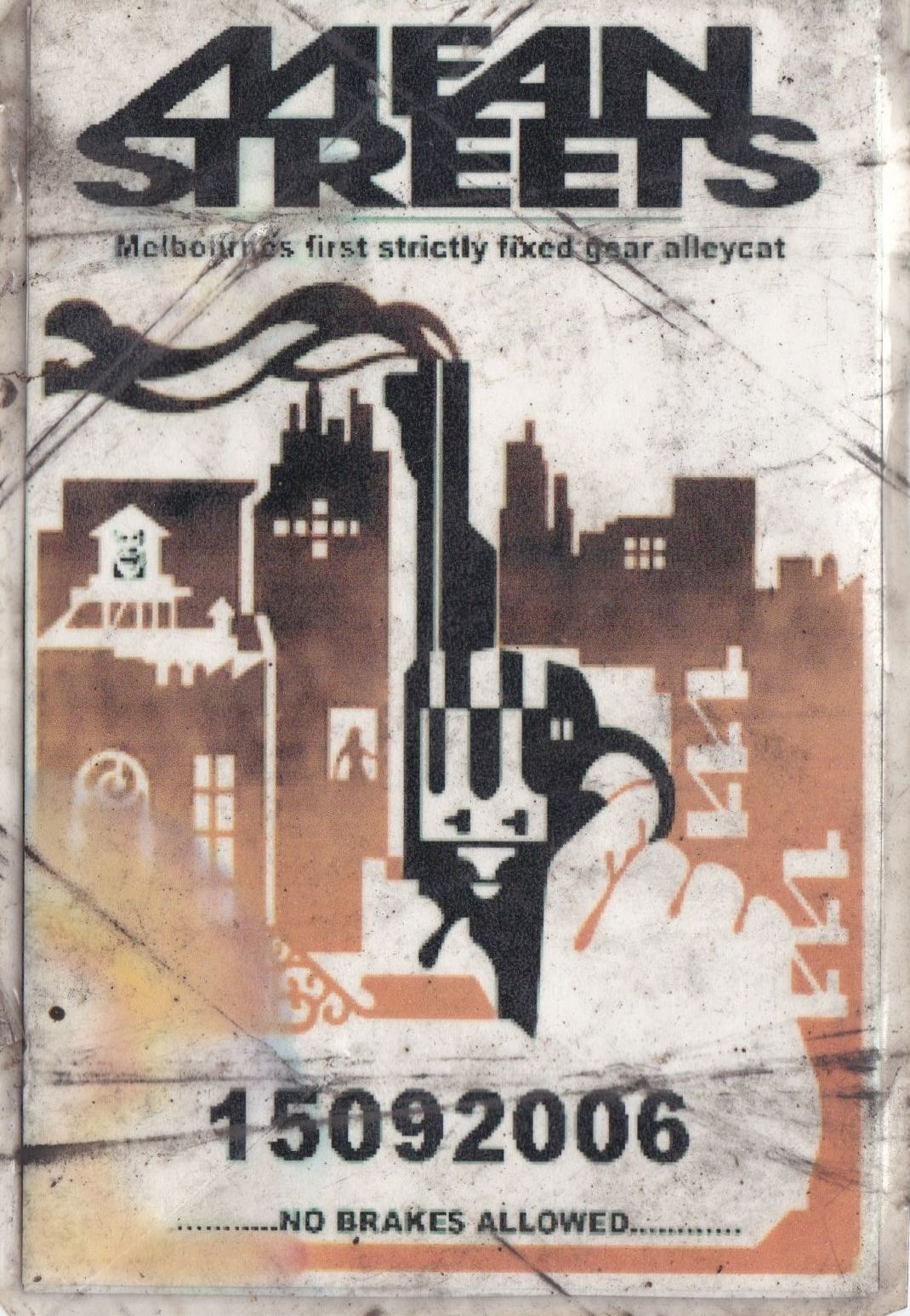 At the start, alleycats, around the World as well as in Melburn were closed events, open only to messengers or ex- messengers who were known to the organisers. That way we knew that everyone actually knew what they doing in traffic on a bicycle- we knew they had some riding chops. First this got diluted with friends who were invited because we liked their style- non messengers who were part of the extended family. But as the fixie/urban cycling boom happened that fairly quickly went away- the trickle of friends became a flood. Now that I think of it - this had already happened by the time Mean Streets rolled around in 2006- I remember wondering who all these people were, before the start. A year before I knew everyone who rode a track bike on the Melbourne streets. In 2005 it still might have been possible to get to know them all- maybe. By 2006 – not so much anymore- this was when Dimmos started his events that were mainly targetted at non -messengers, although his "Dash for Cash" was notably "messengers only". The fixie scene started to grow on it's own away from the messenger World ,which was declining in numbers at the same time as non-messenger urban cycling and the fixed gear trend was really starting to boom.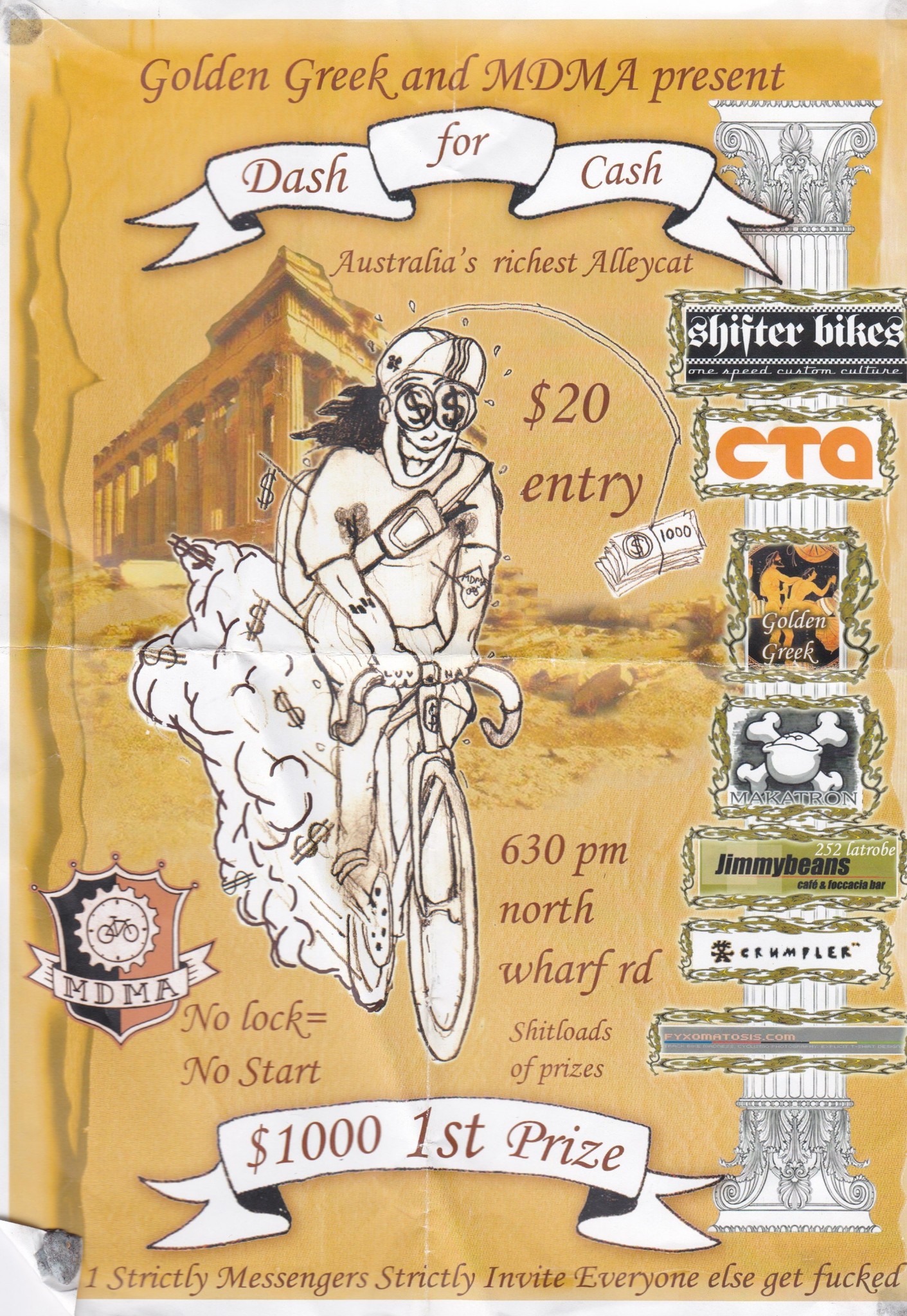 There are a few Alleycat events that have attained legendary status. The most famous of these is, undoubtedly Monster Track in New York, which has been run since the year 2000, with an interruption in 2008, there had been a death during an alleycat in Chicago, and the organisers felt they had to take a pause to reassess safety as the increasing popularity of track bikes and urban riding meant they no longer knew everybody competing, so had no surety that competitors had the skills required to participate safely. But , as far as I know , it has been held again each year since 2009. All alleycat events have had to confront this issue. Not prompted by a death obviously- but we all have to be aware that they are "alive"events, the course is the city streets you ride every day. Like any other time you ride on the street, the hazards are real, there is NO safety net.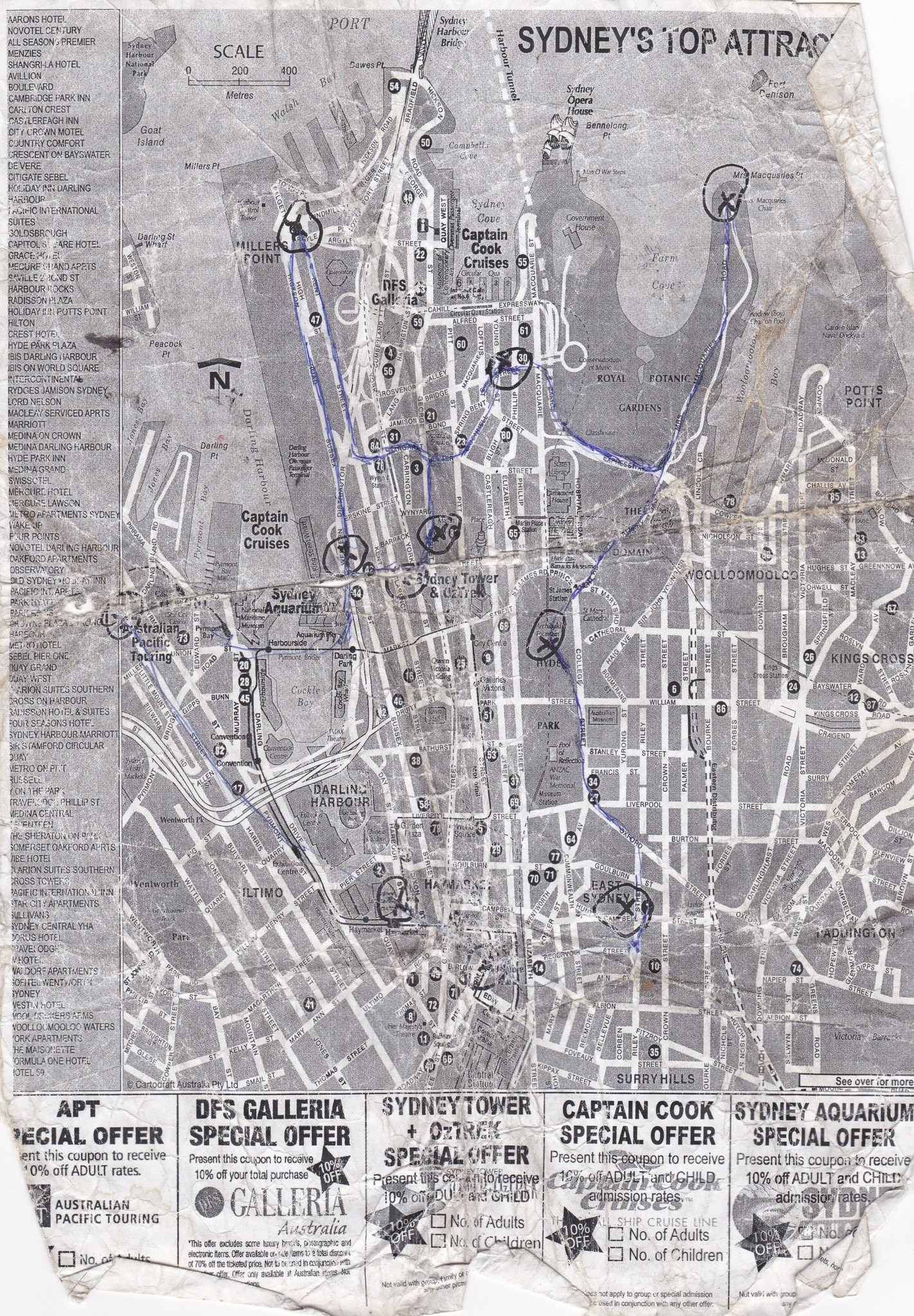 Alleycat map from CMWC in Sydney 2006
Which leads to a very important point. There have been a few movies made with alleycats and messenger culture central to their subject matter, and the internet is full of POV videos filmed at the most famous events in the World. The most famous, and probably the best, is Lucas Brunelle's "Line of Sight", which is available on Netflix in some countries, but failing that can be downloaded from lucasbrunelle.com for a small payment. Recently Terry Barentsen's You Tube channel has taken over the lead for current content. His unedited footage from last years Monster Track is oddly compelling viewing. The point I have to make is that the riders you see in these videos are the Worlds best at this type of riding. That means that they have honed their skills over years ,and ,like any elite level athlete- they were FREAKS in the first place. The average, mortal urban cyclist, even an every day commuter, or even most messengers for that matter, should never, ever think that they can suddenly go out and slice and surf intersections and take non-existant gaps like they've seen in the videos, just because they happen to be in an alleycat. This would be as unreasonable as watching the Tour de France and then expecting to go and hang in with the pro bunch as they're winding up for a bunch sprint. There's just no way. Remember- the consequences are real. How would you feel if you cleaned up a pregnant woman because you were riding well above your abilities? Ride to your own abilities, make your own decisions AT ALL TIMES. NEVER blindly follow a top rider through an intersection or tight traffic. The line they may take may only exist for the fraction of a second it takes for them to take it. You, in all likelihood, are only able to keep up because they're tired from the week of messenger work you probably haven't done. Sorry to be so blunt, but by blindly wheelsucking them, you are effectively making them responsible for your life, not just their own. That's not very fair, is it?
Remember, first and foremost, an alleycat is a navigation challenge, a fun thing to do on a bike. You might go see parts of town you never even knew existed, and be thrown challenges that you'll remember for life. Alleycat after parties can be pretty epic too. You'll certainly meet new people and make new friends provided you don't act like an ass. Conversely- act an ass at an alleycat, and your reputation can be ruined forever.
My life has undoubtedly been enriched by being involved in the urban cycling scene for the last 30 years. I raced every alleycat that was put on in my home town of Melbourne for the better part of a decade, and have competed in other cities as well. I never kept count of how many I did- it'd have to be 30-40. I raced at two messenger World Championships- Barcelona 1997 and Sydney 2006 and blessed Riga 2018 with my presence (I paid my entry, but at 51 years of age I lacked the fire to compete myself).
It was very nice to see that the Messenger Family- the Messfam is still so strong. The flag has been passed to new hands, and it's in good hands indeed. Similarly I no longer ride alleycats myself- I'm 53 years old now ,and though I still ride my brakeless fixed gear as daily transport, I am a mere shadow of the rider I once was. You have to recognise when your time in the sun has passed. It's not my time anymore- it's yours. All you have to do is seize it with both hands and enjoy. I hope you enjoy the ride!
Must see films about Alleycats.
"Red Light Go- Alleycat Racing in New York City", KSK Studios- Ben Barraud, Toby Barraud, Manny Kivowitz, 2003. Really good about the early days of the century in New York City. The end of the analogue age, the dawn of the digital. Search it out- it is on you know what tube.
"Line of Sight", Lucas Brunelle, Benny Zenga, 2012. The absolute must see. POV video of the World's best riders at the World's biggest alleycats and events, filmed by the original and arguably still the best: Lucas Brunelle. Also a great insight into International messenger and alleycat subculture as it is pretty much to this day. Available for HD download for 5 bucks from lucasbrunelle.com. Also rumoured to be on Netflix in some countries, though certainly not in Latvia!
Follow our urban journeys